The fact that Sweden is a wonderful country for holidays is getting more and more known around the world. It is beautiful and quiet. Child friendly and hospitable. While also being adventurous and untouched by the masses. The attraction to all this is getting bigger and bigger Still, if you are used to vacationing in a chalet in the south of France or an all-inclusive resort in Tenerife, it remains difficult to choose something different for once. Change can be hard. Because what will a vacation in Sweden bring you? But foremost: what will you bring to Sweden? By giving you good insight in the latter, I hope you will go and try it. I'm not going to hand you a packing list from toothbrush to swimming trunks, but I will focus on what is special about north-Sweden.
Contents:
What do you take with you on a trip to North-Sweden during winter?
When thinking about winters in Sweden, the first things that come to mind are lots of snow, moose, long dark nights and the northern lights. Ofcourse everyine loves the pictures, but thinking about spending a vacation there can send cold shivers down someones spine. There's a Swedish saying that goes: 'Det finns inget dåligt väder, bara dåliga kläder'. And it means: "There's no such thing as bad weather, just bad clothes". You wouldn't be suprised to hear that the right clothing is essential for a positive experience. But where to start? Keep in mind the following rules when packing your bags for Sweden during the winter.
There's no bad weather, just bad clohting: 4 clothing tips for staying in North-Sweden during winter.
1. Layers, layers, layers
Because the temperatures can vary from just below zero to -35C degrees (and sometimes even colder) it is very important to use layers of clothing the right way. The air in between the layers will work as in insulator. This doesn't mean you have to go to the nearest sport shop for the most advanced pieces of wintergear. Chances are that you already have most of the gear lying in your closet.
Underwear: just wear what you think is most comfortable;
Thermal layer: this can be thermal underwear, available at various sports stores (e.g. Decathlon, also very affordable), but it can also consist of tights or leggings and a long-sleeved shirt, preferably made of (merino) wool. This thermal layer has to have a close-fit to your body. Wool socks complete this layer;
Upper layer: on top of the thermal layer you can wear a long-sleeve fleece with high collar. Put on a pair of comfortable pants, such as sweatpants, on top of the (thermal-)underlayer. Avoid jeans, they bring you nothing in this climate.
Outerlayer: if you got all the other layers right, the outer layer doesn't have to be extremely thick. The most important thing is that this layer is wind- and waterproof. You don't own watertight pants or jacket? Don't worry! When traveling to Sweden for the first time, maybe you can borrow something from friends or relatives. Not an option? Then try and find your jackets and pants secondhand from the internet before going to the store. Good for the environment and your wallet. In case you do want to buy something new, but don't want to get a mortgage on your house to do so, make a visit to Decathlon for instance. Take the advice that the people at the shop can give you.
2. Keep the ends of your body warm.
It might be a no-brainer, but you lose a lot of heat through your head. So keep that part warm. Put on a hat when going outside. One with earmuffs, knitten, made of fleece, expensive, cheap, it does not matter. Choose what you like. If it keeps your head warm it is doing what it should. Add a cowl to this. Cowls take up a lot less room in your luggage than a regular scarf, en they stay in place much better. No more hassle! A one-stop solution is a balaclava, which covers your head, face and neck.
Next are the feet. When they are cold, your mood will quickly get worse. The best option to cover your warm socks are good snowboots. I am a big fan of the brand Sorel (also for kids!). If you don't wan't to buy new ones, borrow them from friends or buy secondhand. Make sure they will still fit with thicker socks or even two pairs of socks.
Gloves or mittens? Again, that's up to personal preference. There are gloves that keep your hands warm and dry at very low temperatures (and they don't have to be very expensive!), but I personally like mittens more. When it gets very very cold I even wear a thin thermoglove underneath. The whole idea of mittens is that your fingers are together in the same space, and heat each other better.
3. Don't underestimate children's clothing.
Are you taking (small) children on your vacation to North-Sweden? You can basically follow the same rules as above. Children's clothing is widely available second hand, because they outgrow their clothing faster there is a wide range of prefectly good clothing on the market. For the small children I have good experiences with the waterproof skisuits from H&M, which are mostly on discount during spring. Older children can tell you what kind of clothing they like, but make sure that all the clothing still meet the demands. It's good to look nice in the snow, but it's more important that they stay warm, dry and safe.
4. Don't let a tight budget stop you.
I've said it before, but suitable clothing is available for every budget. Besides borrowing from others, I'll sum up the options for tighter budgets:
Do you have a little more to spend, and are you willing to, then here are some other tips:
Didriksons, high quality weatherproof gear for young and old.
Lindberg Sweden, from thermal layer to water- and windproof outer layer, this brand has it all for the whole family.
Liewood, a Danish childrens' clothing brand that has a solution for every meteorological setback.
If you abide by the forementioned basic rules, you will have the wintervacation of a lifetime in North-Sweden. When expecting very low temperatures or when planning activities skigoggles will come in handy. Will this be enough to expose yourself to the elements during a huskytour, snowscootertour or when going ice fishing? Maybe not. Luckily the Swedes are very experienced in this matter and for most activities special clothing is included, sometimes for a small charge. Are you staying at our ons Vandrarhem and you're still missing some gear? We have a supply of spare clothing and equipment, maybe there is something there that you can borrow.
North-Sweden during the summermonths
Geographically, North-Sweden makes up a large part of the country, so there can be big difference in temperature between the different regions. Extreme heat spikes like during the summers in the Netherlands do'nt happen in Sweden. But big parts of North-Sweden, where our Hovra Vandrarhem is situated, it will be 25C-30C degrees. .
Whether you spend the summer in Sweden in a stuga, on a classic campsite with tent, caravan or camper, a hostel, hotel or decide to go wild camping (yes that is allowed in most places there!), your packing list is always different. Will you travel by airplane and rent a car? Do you travel the entire trip from home by car? Will you take the boat from Germany or Denmark to Sweden? All these decisions will have an influence on what you're taking with you to your holiday location. But once you've arrived at you holiday location in North-Sweden chances are you want to experience the adventurous or soothing outdoor life.
These are the 10 things you definitely want to bring on a vacation to Sweden:
1. Mosquito repellent
When you say 'Sweden' you also say 'mosquitos'. You can have no encounter with mosquitos, you can see several or it can be masses. Make sure you are prepared and visit the drugstore for a spray or roller. Don't forget to buy something like a spray or lotion which can ease the itching after you've been bitten. Check the age from when you can use the products, especially when travelling with younger children.
2. Tick spray and tick pen.
Ticks are more common in nature in Sweden than in the Netherlands. Besides Lyme's disease they can also carry tick-borne encephalitis Cut down the chances of a bite as much as possible by using a tick-spray. Whereas with lyme, the risk of infection increases the longer the tick is on the body, tick encephalitis can be transmitted by just the bite of the tick. This brings me to the following:
3. Vaccination against tick-borne encephalitis.
Against tick-borne encephalitis, you can get a traveler's vaccination if you wish. You need two (or three for long-term protection) vaccinations for this prior to your trip. It is not a mandatory vaccination, but given the risk of brain (membrane) inflammation if infected, definitely worth considering.
4. Hiking boots.
If you really want to be able to enjoy all the beauty that Sweden has to offer, be sure to bring a pair of sturdy, waterproof hiking boots. Brands like Meindl or Lowa make very good quality hiking boots, available at Bever outdoorstore and others. You can find a lot online, but always try to stop by a store before making your purchase. The differences between various shoes can be huge, professional advice is important here.
5. Hiking socks.
It may be self-explanatory, but I want to name it anyway. Always combine good hiking boots with good (merino)wool hiking socks, for example from the Falke brand because these are heat regulating you avoid sweaty feet and stench. Moreover, with well-fitting socks, you are less likely to get blisters.
6. Sandals.
When the weather is nice, a pair of sandals is essential. Always go for sandals with a good footbed ( Teva, for example) because, of course, you want to be able to walk a long way on them.
7. Windproof and water-repellent jacket.
As I mentioned earlier, Swedes operate on the principle that there is no such thing as bad weather, only bad clothing. Therefore, regardless of the season, always bring a good jacket. I myself am a fan of a softshell jacket in the summer months. It offers warmth, is windproof and holds back water for quite a long time. Wonderful when it's cool in the early morning or when you're still sitting outside in the evening. Of course, you can also go for a raincoat or a light down jacket.
8. Swim gear.
Sweden, with all its lakes, is a watery country. All of Sweden's nature is subject to an everyman's right, which means that everyone is free to wander around in nature, as long as you don't destroy or disturb anything. And tell yourself, what could be more delightful than taking a refreshing dip in a lake while hiking?
9. Firesteel.
If you want to make your own fire, then this article is indispensable. In general, you may make a campfire in many places in Sweden (as long as you do not damage nature and with the exception of very dry periods, read yourself in advance). Around our hostel there are also spots where this is encouraged, as there is, for example, a small hut with wood ready for everyone to use. So in our bag is always a firesteel to get the fire going. For us, this is preferable to a lighter or matches because it can be used in any weather and it lasts an extremely long time. So a reliable piece of equipment!
10. Camera.
No one goes out without a phone (and therefore camera) these days, but make sure it is adequately charged at all times and has enough room for new photos if you decide not to bring a separate camera. Sweden is a hugely photogenic country. Fun for Insta.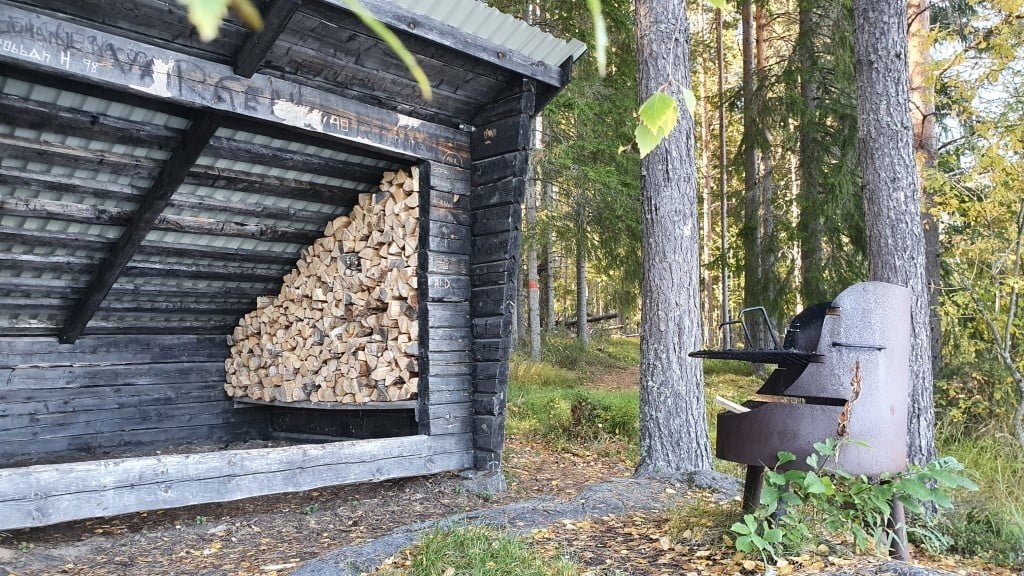 What about spring and fall?
As in the Netherlands, spring and autumn in Sweden are seasons where there are wet, cold days but also warmer, sunny days. It is therefore difficult to give conclusive advice on what you are going to need. Before your trip, check the weather forecast carefully. It can easily be around freezing in the morning and sunny in the afternoon with 20 degrees, keep that in mind when packing. Some considerations specific to these seasons:
1. Ticks are also present in autumn and spring.
So the advice for the summer months applies unabated in the early and late season as well.
2. If your stuff and clothes are wet, it's soon not fun anymore.
Provide a waterproof jacket, backpack and shoes. Gore-Tex is always a good choice here, but Decathlon's trekking department also has plenty of suitable gear available.
3. Try to choose multifunctional clothing as much as possible.
These can be zip-off pants or long outdoor pants with zippers for extra ventilation. It can be a coat composed of several layers that can also be worn separately or a coat with zip-off sleeves. It is nice if you can easily adapt to changing conditions without carrying a lot of luggage. The RevolutionRace brand is our absolute favorite for any season, but especially spring and fall!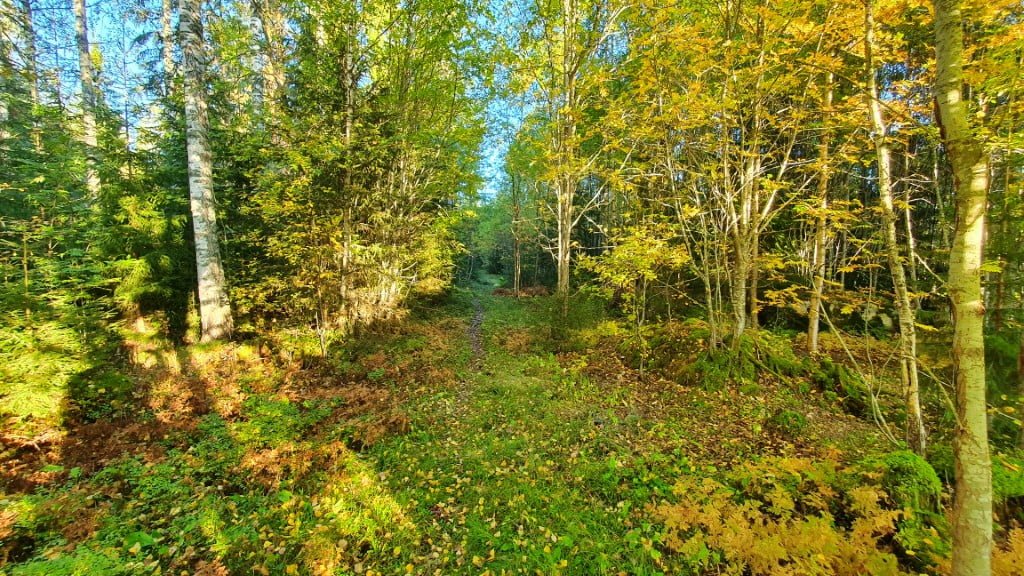 What can you expect in our Vandrarhem?
We can't pack your suitcase for you. Nor can we choose which clothes you like or find useful. What we can do is make your stay in our Vandrarhem (hostel) as comfortable as possible. How we do that?
1. Food and drink.
In our hostel there is a common kitchen and dining room that all guests are welcome to use. Don't feel like diving into the kitchen yourself for every meal during your vacation? No problem! We offer several options:
In our kafé you can have a good breakfast every day. Please inquire in advance about the possibilities of booking breakfast with it.
During the day, our kafé is open for a drink and snack (sweet or savory) or ice cream in the summer months.
Our grill hut can be reserved for a special evening with family or friends. Ask about options and tips.
For restaurant tips, you can always contact us. We are also happy to help you make reservations if needed.
2. Comfort and coziness.
Our rooms are naturally equipped with comfortable beds and ample space. But did you know that…
…there are ample facilities for vacationing with (small) children?
…You can also use the grill hut to light a fire for a cozy evening with your travel party?
…there are also board games available for those dark winter evenings or long summer nights?
3. Activities and adventure.
Of course, prior to your vacation, you have an idea of what you will do in northern Sweden. Hiking, ice fishing or perhaps a husky tour. And of course, if you can, you'll want to catch a glimpse of the Northern Lights. Some activities we offer ourselves from our hostel, for other activities we have good contacts in the area. Whereas for the Northern Lights it remains mainly a matter of luck, here too we can advise you regarding vacation periods or alert you to expected Northern Lights when you stay with us. We are happy to help you make your dream vacation come true. Contact us for options.
4. Help and advice.
Running into something when planning your vacation? Are you unsure about what gear you need or do you appear to have forgotten something upon arrival? Want to know something about the area? Don't hesitate to ask us. We may have an immediate solution and if not, we are happy to think with you.
Just to recap: what can you leave at home when you book a vacation at our Hovra Vandrarhem?
An adventure vacation in northern Sweden inevitably brings with it an extensive packing list. This packing list gets longer quickly, very quickly when you also bring (small) children on vacation. Below are a few things you don't have to worry about when you pack your bags to come to Hovra Vandrarhem, simply because it is always available to you:
Bedding
Towels
Crib with bedding
High chairs
(Outdoor) toys for every season
Board Games
Kitchen inventory
Now that you know what all is handy to bring (or not) to northern Sweden, all you have to do is choose the season that suits you best and book your vacation! If you have questions, ask them below. We are here to make your vacation a success!